Future Shop
Future Shop: PlayStation Vita Madden NFL 13 Bundle $199.99 (Save $50)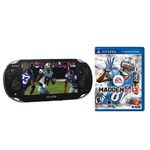 This deal has expired!
If you're looking into picking up a portable handheld gaming console, Future Shop has a pretty decent deal on the PlayStation Vita. Right now, you can order the PlayStation Vita Madden NFL 13 Bundle for $199.99. Normally, you're looking to pay around $50 more but the $50 Gift Card promotion gets automatically applied to online purchases so you get the instant benefit of making the web purchase.
In-store shoppers looking to take advantage of the deal will pay $249.99 up front but also get a $50 Gift Card for later use. We're not sure if you can get the card applied on the spot but our guess is that it won't be possible just from prior experience. Still, the promotion is pretty good if you want a Vita. With the release of the new firmware, PSOne Classics are now available for download and games like LittelBigPlanet Vita should continue to popularize the handheld.
The promotion is live now but expires on September 27. Free shipping is available.