Future Shop
Future Shop: Free Wipeout 2048 with Purchase of PlayStation Vita Console ($40 Value)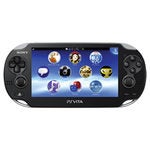 This deal has expired!
It's been pretty difficult to find a good PS Vita bundle but Future Shop might have one that could just give you enough incentive to pick up the portable console. Until midnight tonight, you'll get a free copy of Wipeout 2048 with any purchase of the PlayStation Vita. Getting a $40 game for a $250 console might not seem like a big deal but, considering the scarcity of Vita deals lately, this might be as good as it gets.
The best bundle we've seen was probably when the system launched and even then it was only a $40 value. If you're a fan of the Wipeout series, this instalment received some decent scores and should provide lots of replay value on your new handheld. For an in-depth analysis on the game, you can check out the GameSpot review here. One of the complaints most people had with 2048 was with the terribly long load times. Rest assured, though, they've been patched and have seen marked improvement.
The deal is live now but will expire tonight at midnight.