Future Shop
Future Shop Camera Trade Event: Trade in Your Old Camera and Save up to $100 on a new Canon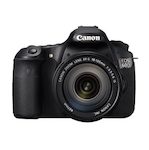 This deal has expired!
If you're looking at getting a new DSLR, point-and-shoot or camcorder, and happen to have an older camera at home you wouldn't mind getting rid of, Future Shop has brought back one of their better trade in promotions. For a limited time, you can save up to $100 off a new Canon camera as long as you have one to trade. Here's the breakdown:
Save $30 on any new Canon between $150-$299.99
Save $50 on any new Canon between $300-$699.99
Save $100 on any new Canon $700 or more
The offer is valid in-store only and Future Shop won't accept toy cameras or keychain cameras. Though Future Shop won't resell your old camera, it would be wise to delete any data off your camera or camcorder if it has internal memory. We'd also make sure not to leave any memory cards in there by accident.
More details can be
found here
.