Best Buy
Future Shop & Best Buy: LG 60" 1080p Plasma HDTV $999.99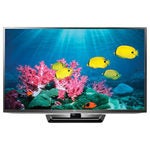 This deal has expired!
If there's a hole in your life and you're looking to fill it with a really big HDTV, Future Shop and Best Buy are featuring the LG 60" 1080p 600Hz Plasma HDTV (60PA6500) for $999.99. It's a good price for a current generation model.
The TV has very solid reviews -- 4.5/5 with 39 reviews on Amazon.com and 5/5 with 4 customer ratings on FutureShop.ca among others. The cheapest we've ever really seen for 60" plasmas has been near the $850 or $875 price point when older models are being cleared out. Outside of that, $999.99 is the popular sale price.
In this case, shipping is not free. We've got shipping estimates of $49.99 from both retailers -- that's consistent with what retailers charge for delivering a 60" (or bigger) television.