Future Shop
Future Shop: Acer Aspire 14" Laptop w/Intel Core i5-2450M, 750GB HD, 6GB RAM, HDMI, Webcam $500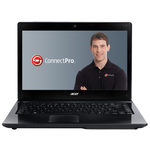 This deal has expired!
If you're looking for a desktop replacement or just need a new laptop, Future Shop has put the Acer Aspire 14" Laptop with Intel Core i5-2450M, 750GB HD, 6GB RAM, HDMI and Webcam on sale for $499.99. This is one of the lower prices we've seen for a second-generation i5 processor with these specs and it looks like a good buy for anyone in need a computer right now. It's a 14" traveller with decent battery life and size and is another option for you to check out if you're in the market for a notebook.
At $500, you're getting a laptop with a sizeable hard drive, good amount of RAM and workhorse processor. It has average battery life (4.5 hours) and weighs just about 5 pounds so you'll want to take those factors into consideration if you plan on bringing it to and from work. Gamers, unfortunately, will need to look elsewhere as this does not have a dedicated graphics card. Despite that shortcoming, it's still an affordable laptop with bang for your buck value.
The deal is live now but only until July 12.
Future Shop offers free shipping on orders over $20.