Future Shop
Future Shop: Acer Aspire 14" Intel Core i5-2450M Laptop w/750GB HD, 6GB RAM, HDMI, 6-Cell $489.99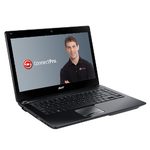 This deal has expired!
Because back to school shopping doesn't always involve pens and pencils, Future Shop is giving laptop seekers a good limited time deal on a 14.1" Acer. Right now, you can pick up the Acer Aspire 14" Laptop with Intel Core i5-2450M, 750GB HD, 6GB RAM and HDMI $489.99. It's a pretty decent price for a notebook with these specs and, if you don't mind the 4.5 hour battery life or just under 5 pound frame, it'll serve students and commuters well.
For just under $500, you're getting a second-gen Intel Core i5 processor, spacious hard drive and decent amount of RAM. We're used to seeing i5 laptops go for a bit more but that's probably going to change with the release of the gen-three processors. Still, this is a laptop to consider if you're in the market for one or know a student who needs one for post-secondary. Gamers will want to look elsewhere, though, as this doesn't have a dedicated GPU.
Free shipping is available.