Future Shop 3 Day Sale: Olympus E-PL1 Camera is $250, iTunes $30 Multipack is $24 (Ends May 6)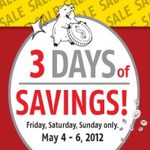 This deal has expired!
Future Shop is running a 3 Day Sale with some decent deals in the mix. The sale is available until Sunday (May 6) and is valid in stores and online unless stated otherwise. Some of the notable offers include:
One deal that particularly caught our eye was the Olympus E-PL1 12.3MP Black Camera w/4-42mm Lens for $249.99 with free shipping. This compact and well-received interchangeable lens camera is a popular choice with our forums members or with any beginner photographer in the market for a decent and affordable starter kit. You may want to view this forum thread for more info. If you're interested, you'll want to act sooner rather than later as the $249.99 price is the lowest we've seen for the E-PLI (in black) since the last price drop. The camera is sold out online and available in store only, check in-store availability here.