Microsoft
Freebie: Windows 8 Consumer Preview Now Available for Download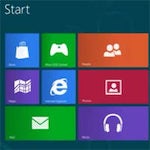 This deal has expired!
Interested in being one of the first people to try out Windows 8 before it's fully released? If so, you're in luck! Forum user stephroll just posted in the Freebies Forum that the Windows 8 Consumer Preview is now available for download.
If you aren't familiar with the new operating system's features, you can take a look at the Windows 8 consumer preview website to get a better idea of what to expect.
Although the Windows 8 Consumer Preview is free, it should be noted that since this isn't the finished product, download at your own risk. Back up your data before installing the preview, and make sure you read through the full list of FAQs here before you download.