TradePub.com
Free 158 Page Preview of SitePoint's The JavaScript Anthology: 101 Essential Tips, Tricks & Hacks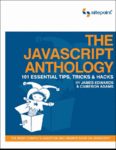 This deal has expired!
With the job market and the economy the way they are right now, there is no better time to sharpen up your skills or add some new ones. If you work with Javascript or are just learning it, you might want to check out this
free 158 page preview of SitePoint's The JavaScript Anthology: 101 Essential Tips, Tricks & Hacks
provided by TradePub. Over at
Amazon.com
, the book has a rating of 4/5 based on 18 reviews. Why not check out a preview (about 1/4 of the book) at no charge?
RedFlagDeals.TradePub.com
provides magazine subscriptions to professionals free of charge provided they work in a relevant industry. There are many resources that can help you stay up to date in your work sector, so explore the site!