Fido
Fido: $40 Plan with Unlim. Text, Canada Long Distance, 250MB Data, 150 Anytime Minutes, CID/Vmail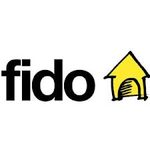 This deal has expired!
Recently, we've finally seen the large wireless providers offer more aggressive plans to consumers. And now, Fido has an All-in-One $40 plan that is worth your consideration. Here are the details:
Unlimited incoming text
Unlimited outgoing text to Canada and the US
150 Anytime minutes
Evenings and weekends from 5PM
Unlimited Canada-wide long distance
250MB data
Voice mail
Caller ID
This plan is available on 2-year contracts and month to month. RFD users have sussed out that the iPhone 5 is not available from Fido with this plan. That being said, some other high end phones, such as the Galaxy Nexus and HTC One S, can be purchased with this plan on a 2-year contract at a pretty favourable price ($50). To take advantage of the offer, you'll need to call Fido or visit a store location.
You have until September 30 to sign up for the plan. Our thanks to forum user dkmwong for sharing this!