Gamestop.ca
EB Games: $30 Gift Card w/Purchase of a Nintendo 3DS (March 24-25 Only)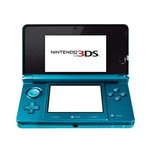 This deal has expired!
If you're in the market for a Nintendo 3DS, you might want to hold off for just a few more days until EB Games starts its Nintendo Demo Days. Between March 24-25, and all across Canada, you'll be able to demo the Nintendo handheld to gauge your interest in picking one up. Should you decide it's the handheld for you, buying a 3DS at EB Games will also net you a $30 gift card which you can use to purchase games and accessories. We're guessing you can't apply the $30 right then and there to the purchase of the console. Still, this is a pretty sweet deal if you've been waiting on a sale or just a little extra added incentive.
The deal is only valid on March 24 and 25. No word yet on if this is an in-store exclusive promotion.