Dell
Dell.ca: Ultrasharp U2412HM 1920x1200 IPS LCD $269.00 + Free Shipping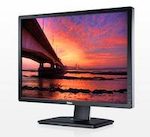 This deal has expired!
In the past couple of years, consumer options for high quality LCDs have come a long way. Right now, Dell.ca has a sale price on a favourite in that category. The Dell Ultrasharp U2412M 24" IPS LCD is on sale for $269.00. No coupon is required. That's not quite the lowest price to date, but it's a very good price regardless.
You might be wondering why a 24" monitor at $269 is a something to be excited over. The answer is that the U2412M uses an IPS panel, which offers superior colour reproduction and viewing angles compared to the vast majority of monitors out there. As part of the Dell Ultrasharp line, the monitor also has some other great perks -- height adjustment, pivot, rotation, and a built-in USB hub. Connection wise, it supports DVI, VGA, and DisplayPort. Note that it doesn't have HDMI input.
All in all, this is an excellent product at a consumer friendly price. We expect this price is only good until early Friday morning (6AM ET), so don't delay. Shipping is free.