Dell
Dell.ca: Logitech G500 Laser Gaming Mouse $55.99 (Reg. $79.99)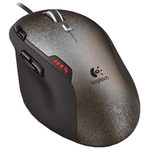 This deal has expired!
If you take your PC gaming seriously, and by that we mean enough to warrant a weight-specific, macro-customizable, laser gaming mouse, Dell.ca has a pretty good deal on a popular Logitech mouse you might want to take a look at. Today's Red Hot Deal of the Day is the Logitech G500 Laser Gaming Mouse on sale for $55.99. Although this seems like a lot for a mouse, especially with other affordable alternatives on the market, the G500 has some pretty good features that make it worthy of its price tag.
Make no mistake, this mouse was built with gamers in mind. It features a specific weight tuning mechanism, gaming-grade laser sensor, onboard memory, dual-scroll wheel and adjustable sensitivity. You can read more about its features at the Logitech website.
If you're into first-person shooters, macro heavy MMORPG's or just feel your basic two button mouse could use an upgrade, this would be a pretty good choice. Diablo 3 is just around the corner as well, just saying.
The deal is live now and ships free.