Dead or Alive 5 (XBOX 360) - $29.99 (50% off)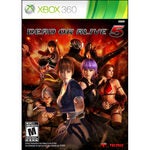 This deal has expired!
In Dead Or Alive 5, players will once again take on the roles of the cast of Dead Or Alive fighters in an intense, action-packed brawler set in visually striking locations from around the world. The DOA hand-to-hand combat returns, supported by completely new 3D stages that update the series' characteristic style with a fresh look and feel.