Costco
Costco.ca: Garmin Nuvi 1390LMT GPS with Lifetime Maps, Lifetime Traffic, Turn-by-Turn Assist $140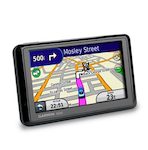 This deal has expired!
If you find yourself always making the wrong turn and can't rely on the Google Maps app on your mobile phone, Costco.ca has a pretty good stand-alone GPS you should check out. Right now, they have the Garmin Nuvi 1390LMT GPS with Lifetime Maps, Traffic and Turn-by-Turn Assist for $139. Some of its features include:
4.3" backlit touch screen
Preloaded with detailed maps of North America
Bluetooth enabled hands-free calling
Lane assist
Traffic alerts
Turn-by-turn directions with spoken street names
ecoRoute suggestions for fuel-efficient navigation
Garmin Lock anti-theft feature
microSD expansion slot
Rechargeable lithium-ion battery for up to 4 hours of continuous use
In short, it's a pretty feature packed GPS at an affordable cost. Though Google Maps and other GPS applications are becoming increasingly prevalent in mobile phones, they're sometimes unreliable or can't pick up a signal when you need it most. If you do a lot of travelling or know of some friends or relatives that could use a new navigator, be sure to pass this deal along.