Canada Computers And Electronics
Canada Computers Top Weekend Deals: HyperX 2x4GB RAM $38, Patriot LX 32GB Class 10 SDHC $13 AR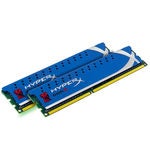 This deal has expired!
Weekend sales over at Canada Computers aren't a new thing but they always have a few deals worth checking out. This week, they have a pretty good deal on a 2x4GB RAM pairing and a class 10 SDHC memory card good for those who need some extra space for digital cameras.
The RAM isn't the cheapest for a 4GB pairing but it's still decent if you need it right now. The SDHC card is also a good deal if you require the class 10 speeds for digital video. Even if you don't, adding 32GB to a laptop, or just having a few on hand, makes for some cheap extra space.
The deals are live now but expire on Sunday. Shipping is extra so you might want to head to a local CC instead, if possible.