Canada Computers And Electronics
Canada Computers Top Weekend Deals: Brother Network Colour Laser Printer $115, Patriot 2x4GB RAM $35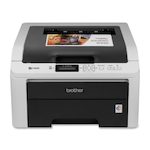 This deal has expired!
Weekend sales are nothing new at Canada Computers but they usually have at least a few good deals worth considering if you're in need of some new computer parts or other miscellaneous electronics and accessories. If you're looking for a couple of upgrades or just some new hardware, you might want to take a look at the featured items below:
The RAM is a pretty good price if you have a few empty slots and want to add some more computing power to an existing PC. The mechanical keyboard is also a good value buy if you're looking for an upgrade. Cherry Brown switches offer the tactile feel without the noise which roommates and house guests everywhere will appreciate.
The deals are live now but expire on Monday. Shipping is extra so, if applicable, head to your local Canada Computers this weekend to avoid missing out.