Canada Computers And Electronics
Canada Computers: OCZ Petrol 2.5" 128GB Solid State Drive $89.99 (After $20 Mail-in Rebate)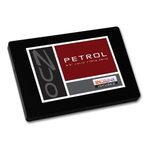 This deal has expired!
It's taken quite awhile but finally the prices of solid state drives are coming down. If your existing setup could use a bit of a performance boost at an affordable cost, Canada Computers has put the OCZ Petrol 2.5" 128GB Solid State Drive on sale for $89.99 after a $20 mail-in-rebate. The deal is on for today only so, if you can't stand unbearably lengthy loading screens, this would be something to look into.
While we're not too keen on mail-in-rebates ourselves, there's no denying that this is a pretty solid deal. Most SSDs can range from $1-$2 per GB depending on the brand and read/write speeds. Any SSD at around $1 per GB is acceptable, or at least a little more justifiable, but getting one for about $0.75 a GB is pretty decent.
The deal is on for today only and is available online and in-store.
Shipping is extra so you might want to consider picking it up in-store if that's a viable option.