Canada Computers And Electronics
Canada Computers: OCZ Agility 3 2.5" 60GB Solid State Drive $49.99 AR (Ends Tonight)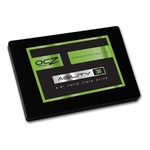 This deal has expired!
We've seen some pretty affordable solid state drives over the last month or so but, if you're still weary about dropping $100+ for one, Canada Computers has a solid deal on a smaller sized drive you might be interested in. For today only, you can grab the OCZ Agility 3 2.5" 60GB Solid State Drive for $49.99 after $10 mail-in-rebate. While obviously not as spacious as some of the 128GB or 256GB models, this is a decent price if all you want to try one out or don't really need the extra space.
Solid state drives are known for their high read/write speed which means less loading and faster start-up times. Those of you used to larger hard drives might want to see how much space you actually use as a 60GB drive might be more than sufficient for an existing laptop or desktop in need of a boost. This drive should be large enough for an operating system install with plenty of space left over.
The deal is on for today only and shipping is extra.