Best Buy
Best Buy: PS Vita Call Of Duty: Black Ops Declassified Bundle w/Uncharted: Golden Abyss $249.99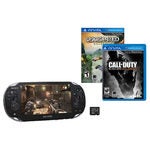 This deal has expired!
We've seen a lot of PlayStation Vita bundles pop up over the last few months with some including games, memory cards, gift cards or some combination of the three. Right now, though, Best Buy has one of the better packages available on the market as they have the Call Of Duty: Black Ops Declassified Bundle which includes a copy of Uncharted: Golden Abyss and a 4GB Memory Card for $249.99. While some would prefer to get a basic bundle with a $50 gift card for use later, Uncharted is one of the better titles available and retails for about $40 while the memory card is about $20 on its own.
It's an exciting time to be a PlayStation Vita owner especially with the PS Plus service now available. For $50 a year (or $17.99 for 3 months) you'll get access to free games and special discounts from the PlayStation Store for as long as your subscription is active. Previously exclusively available for PlayStation 3 owners, the service is now extended to Vita owners which only adds to its overall value. What's even better news is that if you're already a Plus subscriber on the PS3, you'll have access to it on the Vita for absolutely free!
The deal is live now but expires on Thursday. Free shipping is available.