Best Buy
Best Buy: Nintendo 3DS w/Steel Diver and Nintendogs + Cats: Toy Poodle and New Friends $169.99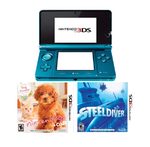 This deal has expired!
If you're looking for some handheld entertainment, Best Buy has a decent deal running for the Nintendo 3DS right now. Until July 26, every purchase of a new Nintendo 3DS console will come with a copy of Steel Diver and Nintendogs + Cats: Toy Poodle and New Friends. While these two titles won't appeal to the older crowd, they're still freebies if you were looking to pick up a 3DS anyway.
The deal is live now but expires on July 26. If you have some younger kids who just got out of school, this is a great present to reward them for all their hard work this year.
Free shipping is available.