Best Buy Canada Ltd
Best Buy: Acer Aspire 14" Laptop w/Intel Core i3-2350M, 500GB HD, 6GB RAM, HDMI, Webcam $429.99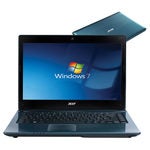 This deal has expired!
If you're in the market for an affordable new laptop for basic multitasking and moderate computing needs, Best Buy has a solid deal on an 14" Acer Aspire you might want to take a look at. Until midnight tonight, you can pick up the Acer Aspire 14" Laptop with Intel Core i3-2350M, 500GB HD and 6GB RAM for $429.99. This is a pretty good deal on a 14" notebook and would work well for students or daily commuters who don't need much more than something for web browsing, email or word processing.
For $430, you're getting a second-generation i3 processor, decent hard drive space and above average RAM. The laptop also packs a webcam, HDMI out and memory card reader, though we would have liked to have seen a USB 3.0 port somewhere. An integrated graphics card means you won't be doing much gaming but, for the price, we can hardly fault Acer for omitting a dedicated GPU. The battery life is average (around 4.5 hours) and it's fairly light weighing just under 5 pounds.
For those of you thinking of picking one up, you have until midnight tonight before the price reverts back to $549.99.
Free shipping is available.