Best Buy
Best Buy: 12-Month Xbox Live Gold Membership Card $29.99 (Reg. $59.99) (Reward Zone Members Only)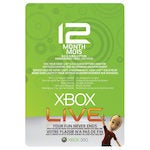 This deal has expired!
If you're a Best Buy Reward Zone Member and need to renew your Xbox Live subscription, there's a pretty hot promotion going on right now. Until August 26, you can pick up a 12-Month Gold Subscription for $29.99; down from $59.99 and one of the lowest prices we've seen for the yearly renewal. To get in on the deal, you'll need to print and present this coupon along with your Reward Zone membership at your local Best Buy. This deal is only available in-store and for members only.
The promotion is live now and runs through until August 26.
Thanks to forum member k3nji for giving us the heads up on this one.