Amazon Canada
Amazon.ca: PS3 Bluetooth Headset and MAG $29.95 w/Free Shipping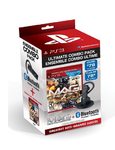 This deal has expired!
If you still haven't picked up a Bluetooth headset for your mobile phone or, more importantly, your PlayStation 3, Amazon.ca has a pretty warm deal on a bundle you might be interested in. Right now, they have the PS3 Bluetooth Headset with MAG for $29.95 with free shipping.
Though MAG is an older title, the deal is definitely better than the sum of its parts considering the game is about $20 new. That leaves us with a $10-$15 Bluetooth headset which is a pretty decent deal considering a low end model is about $20-$30 respectively. Keep in mind, this is the older version of the headset and not the newer version 2.0 that retails for around $50. Even still, the package as a whole isn't bad value if you were looking for a headset.
MAG received decent reviews but over time the online community has likely moved to newer games like Call of Duty or Battlefield.
Amazon offers free shipping on orders over $25.