Amazon Canada
Amazon.ca: PlayStation 3 Wireless Stereo Headset $79.99 (Reg. $99.99)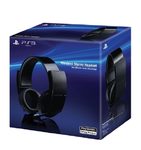 This deal has expired!
If you play a lot of online multiplayer games on your PlayStation 3 and would like an upgrade over your existing Bluetooth earpiece, Amazon.ca has a decent deal on an affordable wireless headset worth looking into. Until April 16, while quantities last, you can get your hands on the PlayStation 3 Wireless Stereo Headset for $79.99. Although not the most feature rich headset to date, this will definitely satisfy those looking for a comfortable and wireless improvement to an existing setup.
A few of us around the office use Bluetooth headsets to game but sometimes we need to turn the volume down to accommodate those around us. The headset allows you to enjoy 7.1 virtual surround sound at whatever volume you please without disturbing the peace. Engadget mentioned the headset was easy to setup, felt comfortable even during long play sessions and was a decent option for those who don't feel like spending upwards of $250-$300 on brands such as Turtle Beach, Tritton or Astro.
The deal is live now and ships free.