Amazon Canada
Amazon.ca: Patriot G2 Series 8GB PC3-10666 DDR3 RAM $31.78 + Free Shipping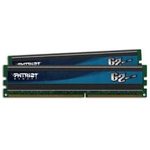 This deal has expired!
If your desktop PC is lacking in the RAM department, there's a deal over at Amazon.ca you should check out. Currently, Patriot Gamer 2 Series Division 2 Edition DDR3 8 GB PC3-10666 1333MHz RAM (PGD38G1333ELK) is $31.78 with free shipping. The model name doesn't exactly roll off the tongue, but what you do need to know is that it's 8GB of DDR3 RAM (2x4GB DIMMS) for quite a low price with free shipping. While this is branded for gamers, there's nothing stopping you from using it if you're system uses DDR3 RAM (which will include most systems from the past few years).
Reviews for this RAM are good. There's only 1 on Amazon.ca (a 5-star review), but Newegg.ca can give you a lot more information. There are 118 user reviews and this memory has earned an average score of 4/5. In general, 8GB of RAM at around $30 is a solid price, but when you factor in the free shipping, you have the makings of a good deal!
Amazon.ca's prices can change without notice, and at this price, we wouldn't be surprised if stock will run out in short order as well. Act quickly if you are interested.