Amazon Canada
Amazon.ca: Microsoft ARC Touch Mouse $39.99 with Free Shipping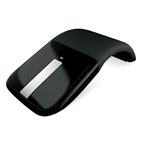 This deal has expired!
If you're a laptop user who hates using the touch pad, Amazon.ca has a pretty warm deal on a portable Microsoft mouse you might be interested in. Right now, you can pick up the Microsoft ARC Touch Mouse for $39.99 with free shipping. Normally, you're looking to pay about double for this so, if you're looking for an external mouse, this might be worth looking into.
The real draw of this mouse is its ability to fold up and occupy as little room in your laptop bag as possible. Bend to turn on, flatten to turn off, it's pretty simple. Microsoft's BlueTrack Technology allows for use on almost any surface and the USB dongle can be left in your laptop or can also be magnetically attached to the underside of the mouse. Overall, it's a slim and portable mouse that won't take up too much room and is almost a must for people looking for a mouse to accompany their laptop.
At the normal price of around $60, we'd look elsewhere for something a bit more affordable. However, at $40, we might be inclined to give it another look. You can check out more of its technical aspects at the Microsoft site.
Thanks to forum user wakka2u for pointing this one out!