Amazon Canada
Amazon.ca: Little Big Planet 2 Special Edition Move Bundle (PS3) $69.95 w/Free Shipping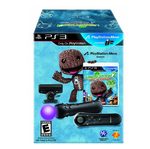 This deal has expired!
It's been awhile since we've seen any PS3 Move hardware on sale but, thankfully, Amazon.ca has brought back a popular forum bundle. Right now, you can pick up the Little Big Planet 2 Special Edition Move Bundle for $69.95. This is a great price for the bundle and is definitely the best bang for your buck on the Sony peripherals.
This particular bundle features a copy of LittleBigPlanet 2 Special Edition, Move Navigation Controller, Move Motion Controller and PS Eye for just under $70. Individually, you're looking to pay much more so, if you had thoughts of buying the hardware anyway, this bundle would not only save you money but you'll get a pretty good PS3 exclusive title too.
As mentioned above, this bundle has been on sale in the past but sells out quickly. If you hope to pick one up, you'll want to place an order soon before stock runs out.
Free shipping is available.