Amazon Canada
Amazon.ca: Kensington Bluetooth Keyboard Case for iPad 2 + New iPad $59 with Free Shipping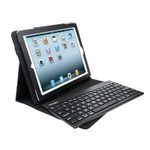 This deal has expired!
There are three nice Kensington iPad cases on sale right now at Amazon.ca -- here's a look at the details:
All three cases come with free shipping. Frankly, any of these units is a great choice if you're looking to add a hard-working case to your current iPad setup, especially if you've found yourself wishing your iPad came with a physical keyboard! At these prices, we expect they will sell out fairly quickly, so you'll probably want to hop on it if you are interested.