Amazon Canada
Amazon.ca: Canon PowerShot ELPH 300 HS (Silver) $139.99 with Free Shipping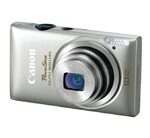 This deal has expired!
It has been covered a few times before but it is still worth mentioning every time this particular compact digital camera goes on sale. Right now, Amazon.ca has the Canon PowerShot ELPH 300 HS 12.1 MP on sale for $139.99. Though we've seen this PowerShot on sale at around this price before, it's still a good buy if you're in the market for a compact, affordable and capable digital camera.
Even with newer ELPH models on the market, you'll be hard pressed to find one at the price of the 300 HS with as many features. Not only does it take high quality shots but it also shoots in full 1080p HD video. It's also one of the smallest and thinnest digital cameras on the market making it great to take on vacation without being too much of a weight burden. You can read more about its technical aspects at the Canon website. You can also check out DigitalCameraReview, CNET and PC Mag for expert reviews.
Free shipping is available but quantities are limited.