Amazon Canada
Amazon.ca: Canon PowerShot A800 10MP Camera (Red) $49 with Coupon Code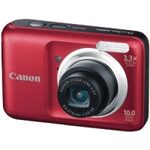 This deal has expired!
April 26 update: It looks like this deal has expired early due to availability. There are 6 new units available for purchase starting at $99.06 through other sellers. Visit Amazon.ca for more info.
Originally posted April 23: If you're looking for a Mother's Day gift and she has hinted she wants an inexpensive, easy-to-use point & shoot camera, pennypincher in the forums spotted a nice deal at Amazon.ca! Right now, the Canon Powershot A800 10 MP Digital Camera with 3.3x Optical Zoom (Red) is on sale for $59 + free shipping. And, with this coupon code RDCAMERA, you can save another $10 bringing your total to $49 before taxes. The coupon code is good until April 28.
If you don't mind owning a red camera, this point and shoot offers 19 auto settings, so you don't have to manually adjust your shooting settings whenever you're capturing and transitioning from one scenario to another. Reviews for this camera are pretty decent with many citing the camera's great value and image quality, easy operation and long battery life.
If you're interested, you'll want to put your order in sooner rather than later as we've seen similar camera deals like this from Amazon go up in price. The Canon Powershot A800 also comes in silver and black but it is slightly more expensive ($65.89 each) and the coupon code is not valid on these colours. Visit Amazon.ca for more info.