Pharmacie Shoppers Drug Mart
Shoppers Drug Mart: Save $10 When You Spend $50 or More (With Coupon, May 8 Only)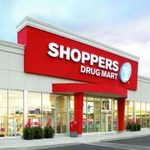 This deal has expired!
Over the weekend, Shoppers Drug Mart sent their subscribers a new promotional coupon! On Tuesday, you can save $10 on your purchase of $50 or more with this coupon courtesy of our forum poster neiu.
This promotion is running at participating Shoppers Drug Mart locations on Tuesday (May 8) only. As usual, the offer excludes prescription purchases, products with coedine, tobacco products, stamps, passport photos, lottery tickets, event tickets, transit tickets/passes, gift cards, prestige cosmetics, fragrances and products/service from Shoppers Home Health Care locations.