Rexall
Rexall Pharma Plus: $10 Off $50+ Coupon, Dollar Deals & More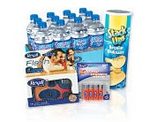 This deal has expired!
If you're heading out to Rexall Pharma Plus this month, you might want to print this coupon and save $10 on your Rexall purchase of $50 or more. The coupon is valid until April 26 at participating Rexall locations. There's a limit of one coupon per person per day. Prescriptions, codeine, insulin & tobacco products, adult meal supplements, baby diaper, postal services, stamps, transit tickets, prepaid phone cards, photofinishing, GiftCardExpress and Rexall Gift Cards are excluded from this promotion. Also, keep in mind that the coupon cannot be redeemed on Seniors Day.
Here's a quick look at some of the flyer deals this week:
3-Day Deals (Available now through Sunday, April 15)
Bounty Select-A-Size Paper Towels 6 Rolls or Huge 2 Rolls - $4.99 (Limit 2 per person, Rest of the Week - Price is $6.99)
Coca-Cola, Pepsi, Sprite or 7-Up (12x355mL), Dasani or Aquafina Water (12x500mL) - 3 Cases for $9.99 (Limit 3 cases per person, Rest of the Week - Price is 2/$9.99)
Dollar Deals (Available until April 19)
Dentyne, Trident or Clorets Gum - $1
Lindt Excellence Chocolate Bar (35g), Lindt 3-Pack (36g) or Halls Cough Drops - $1
Lindt Swiss Classic Chocolate Bar (100g) - $2
Christie Cookies (170g-350g) - $2
Old Dutch 2x Liquid Laundry Detergent (50 Loads) - $2
Lysol All Purpose Cleaner (650mL), Disinfecting Wipes or Toilet Bowl Cleaner (710mL) - $2
View
more Dollar Deals here
.