Lafontaine Source De Jeuness
$275 for 1-Year of Unlimited IPL/Laser Hair Removal on 3 Body Parts ($4500 Value)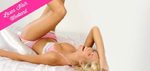 This deal has expired!
$275 for 1-year of unlimited IPL/Laser hair removal on 3 body parts at La Fontaine Cosmetic Surgery Clinic ($4500 Value).
Clinic has over 30 experience with a world-renowned reputation.
Relatively pain free and faster than similar methods.
Highly professional, well trained medical practitioners.
Can be used on a variety of areas throughout the entire body.
Long term results.
Use today's TeamBuy for an optional free cosmetic surgery consultation (breast augmentation, liposuction, tummy tuck, brazilian butt shaping and more)!