CAA Car Care Centre
SPONSORED LOCAL DEAL - Buy a CAA Gift Membership and Get 2 Free Trunk Organizers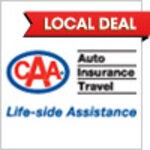 This deal has expired!
This holiday season, purchase a CAA membership as a gift for a loved one and receive two free trunk organizers!
With a CAA membership your loved one will enjoy:
The best and most trust roadside assistance in Canada and the United States, 24 hours a day, 7 days a week
Coverage in ANY Car, including rentals
Exclusive savings and rewards at hotels, restaurants and retailers across North America.
Bike Assist
Save on home, auto and travel Insurance.
Buy your CAA Gift membership today!
Valid only for people residing in the CAA South Central Ontario territory.