Mazda: Up to 84 Months of 0% Financing on Select 2012-2013 Models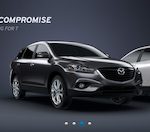 This deal has expired!
The auto deals keep on rolling with another solid promotion courtesy of Mazda. Right now, you can get up to 84 months of 0% financing on all 2013 Mazda6 models and select 2012-2013 vehicles. The automobile selection and prices will vary by province so select your region to see available offers.
No word on exactly when the promotion will end so you'll want to get a move on if you hope to take advantage of the deal.