Honda Canada
Honda 2012 Model Clearout Event: Get up to $4000 off Select Models (Accord, Pilot, CR-V and More!)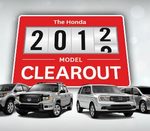 This deal has expired!
With 2012 coming to an end, it's only natural that car manufacturers are offering some pretty good deals to make room for newer models. If you don't necessarily need the latest and greatest, or see anything in the 2013 line that appeals to you, Honda is hosting a 2012 Model Clearout Event where you can get up to $4000 off select cars. There's a decent selection available but here's a look at it in more detail:
2012 Accord - Up to $4000
2012 Pilot - Up to $4000
2012 Ridgeline - Up to $4000
2012 Crosstour - Up to $4000
2012 Odyssey - Up to $2000
2012 Insight - Up to $2000
2012 CR-V - Up to $1000
Although there are various cars available, we were hoping the deal would be extended to the popular Fit and Civic models but no dice. Honda does have a separate deal on select Civics, though, where you can get $1500 off plus a $500 gas card. It's not $4000, but a little extra incentive never hurt.
The event is on now and more information on builds and pricing can be found here. If you're interested, you'll want to head to a dealer before October 1.