Canadian Tire
Canadian Tire: Save 3 Cents Per Litre When You Buy A Snack Item at Participating Gas Bars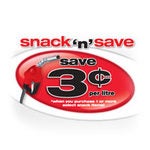 This deal has expired!
Canadian Tire just announced a new promotion that may be of interest if you're looking to save a few cents on gas. Right now, when you buy one or more snack items (select Mars, Wrigley and Pepsi products), you'll save 3¢ per litre.
The full list of eligible snack items isn't posted on the Canadian Tire website, but the image shows Pepsi, Excel gum, Skittles, Snickers bars, M&Ms, and Mars bars.
This promotion is running for a limited time with in-kiosk payment at participating Canadian Tire gas bars, excluding Nova Scotia. Visit your nearest Canadian Tire gas bar for more details.