Threadless
Threadless.com (US) 48-Hour Sale, Hundreds of T-Shirts at $8.99! Ends January 23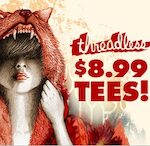 This deal has expired!
It's time to stock up on some cool new t-shirts from Threadless.com again -- they're featuring hundeds of styles for just $8.99 during their 48-Hour Sale, on now.
Here's a look at just a few of the eligible designs:
Threadless.com shipping to Canada starts at $9 per order. Sale ends at 11AM EST on January 2013.