Atmosphere
SportChek Winter Outerwear Event: Get a $50 Gift Card on Purchases of $249.99+, $100 on $499.99+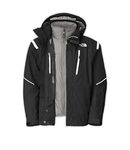 This deal has expired!
Winter is coming and, while that may be the most recognizable Game of Thrones reference, it's also fact as its getting pretty cold outside. If you're looking to sport a new winter jacket this season, SportChek has a pretty decent deal you'll want to take advantage of for a limited time. Until November 5, any winter jacket or pants purchase of $249.99 or more nets you a $50 gift card and a purchase of $499.99 or more gets you a $100 gift card. Unfortunately, the gift card cannot be applied directly at the register but if you have other things to get at SportChek, now would be the time to place an order or visit your local store.
Here's a quick look at some of the more affordable jackets available:
Some terms and conditions do apply, too, as qualifying items cannot be discounted and the gift card isn't eligible on Canada Goose merchandise. Also, the gift card must be used by January 31, 2013. Either way, if you plan on gearing up for winter, a little extra free credit never hurt.
The promotion is live in-store and online now but expires on November 5.