Shop.PUMA.ca
Shop.PUMA.ca Semi-Annual Sale, Save Up to 50% On Apparel & Accessories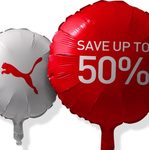 This deal has expired!
It's sale time at Shop.PUMA.ca again, and that means savings of up to 50% on select items such as these:
Prices on Shop.PUMA.ca are listed in US dollars and may incur additional duties and taxes. Orders of $150+ will ship for free, otherwise a flat rate of $9.95 applies.