Sears
Sears Hot for Summer Sale: Up to 55% off Select Footwear, 60% off Select Bed and Bath Items and More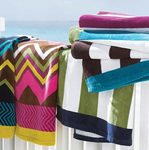 This deal has expired!
Sears is running some pretty good deals as part of their Hot for Summer Sale on right now. For a limited time you can save up to 55% on select footwear, up to 40% off men's and women's fashions, up to 25% off select window coverings and up to 60% off select bed and bath items. If you're looking for some new summer clothes for the family, or need to pick up some new towels, bedding or curtains, now would be a good time to head on over and take a look. Some of their newer bed and bath items include:
The sale prices end at various times so you'll want to head on over and take a look now so you don't miss out on something you could use at home.
Standard shipping starts at $7.95. If you choose to place an order for in-store pickup, you'll be charged a non-refundable $3.95.