Old Navy
Old Navy: Save 30% by Shopping with a Reusable Tote (In-Store Only)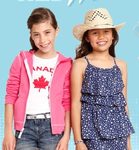 This deal has expired!
For a limited time, you can take 30% off your purchase by shopping with a reusable tote at Old Navy. Because we're sure you've gotten a tote at some point either grocery shopping or just in passing, all you have to do is print and present this coupon at the register and bring your bag into Old Navy.
Some restrictions do apply, however, as One Day Wonder merchandise or jewellery will not be discounted. Everything else, though, is fair game! Here's a look at some of their new arrivals:
The coupon can be used multiple times so feel free to pass it along to any friends or family that might want to take advantage of the deal. Just a reminder, this is an in-store only deal.
The promotion expires on April 29.
Thanks to forum poster xlc_88 for pointing this out!