Old Navy
Old Navy Black Friday Deals are now Live!
Expired Deal
2%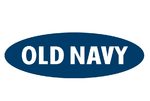 This deal has expired!
Update November 22 - And it's live! Shop now and you can get 30% off your order using the coupon code CANADA30 at the checkout. Also you can get 10% Cash Back on your purchase from now through till Cyber Monday. Shop away!
Black Friday deals continue to flood in and this one comes courtesy of Old Navy EARN CASH BACK with the deals starting on Thursday. You can check out the entire list of Black Friday Weekend Deals here but we've also provided a brief rundown below:
Thursday, November 22
$10 off $50 In-Store Coupon
Save 30% off Everything You Really Want
Friday, November 23
$5 Graphic Tees for Men, Women, Boys, Girls, Toddlers
$8 Jammies for Men, Women, Boys, Girls, Toddlers
$5 Long Sleeve Basic Tees for Boys
50% All Wool Blend Outerwear for Men
$10 Performance Fleece Mocknecks for Men
$15 Long Sleeve Front Pocket Shirts for Men
$25 Cardigans for Men
Saturday, November 24
Get a Free New Super Mario Bros. U with $40 Purchase (7am)
$12 Adoraboots for Women
$5 Fleece Half Zips for Women, Boys, Girls, Men, Toddlers
$15 Sherpa Hoodies for Men
$15 Coats for Girls
2 for $6 Cozy Socks for Women
$4 Performance Fleece Accessories for Men
$15 V-Neck Caridgans for Women
If you have some kids or relatives that could use some new winter gear, now would be an excellent time to stock up on gifts too. The deals go live on Thursday and don't forget to shop using our Cash Back section to earn 2.5% back on your purchase.