New Product From VistaPrint: Custom Printed Hats. Want One? It's FREE* (Just Pay Shipping)!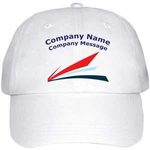 This deal has expired!
Here's a neat new product (and a neat new freebie!) from VistaPrint: a
custom-printed hat
. You can customize them with your business name and information. This sounds like the perfect thing for new small business owner to wear to promote his company! Or, if you're a food handler, you've got to keep your hair covered when you're on the job -- why not do that with a custom-printed hat?
The cost of the hat is free, and for a hat order we placed, it was $7 for shipping to Toronto. Sounds like an unbeatable deal!