Hollister
Hollister: Tees and Tanks Starting at $14 Online and In-Store (Ends May 15)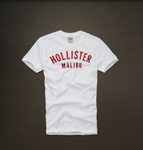 This deal has expired!
If you still haven't solidified your summer wardrobe as of yet, Hollister has a pretty good promotion for tees and tanks running through until May 15. For a limited time, they've put select tanks and tees on sale with some as low as $9.90. Though they've highlighted the sale as being "$14 and Up", we assume it rolls off the tongue easier than "Starting at $9.90". Here's a look at some of the styles on sale:
No coupon code required but styles, sizes and quantities will vary by location.
Shipping is extra so it would be worth your while to order in bulk or to round up a few friends and get a group buy going. Easier than all of that, of course, is buying in store.