Gap
GapCanada.ca Red + Bright Sale: Up to 40% Off Select Styles for Women, Men, Kids & Babies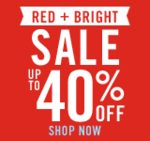 This deal has expired!
Canada Day is just around the corner and Gap is already celebrating by running a festive Red + Bright Sale during which you can save up to 40% on select items for the whole family. Whether you're looking for an extra pair of jeans, a new top or even a bathing suit, Gap's Red + Bright Sale event features a wide variety of different styles to choose from. Here's a quick look:
For Women:
For Men
:
Kids & Babies
:
This sale runs through July 4 online and through July 8 in-store. Gap, Banana Republic and Old Navy offer free shipping on orders over $50.