Gap
Gap/Banana Republic/Old Navy: Save 25% Off Your Purchase, Save 30% When You Spend $100+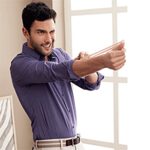 This deal has expired!
Here's a nice way to start out your weekend: this morning, Banana Republic, Old Navy and The Gap announced a triple-header sale. Right now, you can save up to 25% off your purchase at all three online stores. If you wind up spending $100 or more, your discount will increase to 30%.
To have the promotion applied to your order, enter promo code SPRINGCDA at checkout. Banana Republic, The Gap and Old Navy all share the same checkout system, so you can check out once with your purchases from all three stores (instead of completing three individual orders).
This offer is available online only, and some exclusions apply, so be sure to check the fine print on each store's website before buying. The promo code is valid today until 11:59PM EST on March 26.