Coach
Coach: 25% off Your Purchase Total In-Store or at Coach.com (Via Facebook)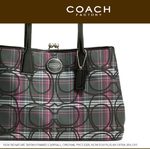 This deal has expired!
It's rare to see a broad purchase coupon for regular Coach stores (although we frequently see coupons for the Factory Store!) but there's a 25% off coupon available now. You have to access the coupon on Facebook and provide your name, email and mailing address. Each coupon can only be used once.
The coupon is valid through September 16 at Coach stores in the US, Canada and Puerto Rico. It's not valid at department stores that carry Coach or at airport Coach stores. Coach.com does ship to Canada, but shipping costs can be quite high and you're probably better off shopping in-store if you're able.