CBCShop.ca
CBCShop.ca Summer Essential Tee Event: Save 10-30% on CBC T-Shirts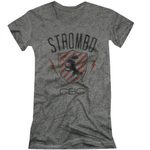 This deal has expired!
If you're a fan of the CBC and/or its programming, now's your chance to wear it with pride (and save)! During CBCShop.ca's Summer Essential Tee Event you'll save 10% when you buy one t-shirt, 20% when you buy two, and 30% if you buy three.
The appropriate discount will be applied automatically at checkout, here's a look at some of the shirts available (prices listed do not include discounts):
Shipping from CBCShop.ca is $5.95 for your first item and $2.50 for each additional item, but if you sign up for their email newsletter you'll receive free shipping on your next order.